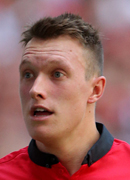 Phil Jones
Squad No: 28
Position: Defender
Age: 22
Birth Date: Feb 21, 1992
Birth Place: Preston, England
Height: 6' 2'' (1.88m)
Weight: 72 kg
2013/14 English Premier League
| GAMES | GOALS | ASSISTS | SHOTS |
| --- | --- | --- | --- |
| 23 | 1 | 1 | 8 |
PHIL JONES
Jones signed for Manchester United, for a reported £16.5 million fee, in July 2011 after making the breakthrough under Sam Allardyce at Blackburn during the 2009-10 season. The versatile defender, who quickly established himself as one of the game's hottest young players with a succession of top performances at Ewood Park, was also a target for Liverpool.
Having made his league debut for Blackburn at home to Chelsea, he has played at right-back, centre-back and in midfield for Rovers but models himself on John Terry, Rio Ferdinand and Michael Dawson and favours playing in the centre of defence.
Jones signed a new contract at Rovers in February 2011 that could have kept him at Ewood Park for a further five years but United swooped to agree a deal for the England Under-21 international just a few months later. It was originally thought Sir Alex Ferguson would use Jones sparingly to break him in gently but the youngster impressed so much in the first few months of his debut season that he drew comparisons with United legend Duncan Edwards and ended up playing 42 games in all competitions.
Strengths: Fast and powerful, Jones' versatility serves him well as he can play as a defender or a holding midfielder.
Weaknesses: A little headstrong at times and can get caught out of position. Lacks experience in his decision making.
Career high: In the summer of 2011 he represented England U21s at the UEFA European Championship and was snapped up by Premier League champions Manchester United.
Career low: A cartilage knee injury kept him out for three months between December 2010 and March 2011 and threatened to upset his season.
Style: Powerful, strong, an uncompromising defender.
Quotes: "He can play in different positions always at the top level. I found in my career probably two players – Franco Baresi and Fernando Hierro... Jones is a talent. So young but a big talent because when he receives the ball he plays always without fear. Good passes, good solutions. I know something about football and the solution that he chooses every time when he receives the ball always the best.'' Then-England boss Fabio Capello, Novermber 2011.
Trivia: Jones is a strong believer in superstition - if he plays at home he will put his left sock on first and step onto the pitch with his left foot first, when he plays away it is right foot first.