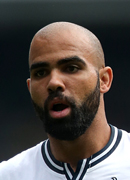 Sandro
Full Name: Sandro Ranieri
Squad No: 30
Position: Midfielder
Age: 25
Birth Date: Mar 15, 1989
Birth Place: Riachinho, Brazil
Height: 1.87m
Weight: 75 kg
2013/14 English Premier League
| GAMES | GOALS | ASSISTS | SHOTS |
| --- | --- | --- | --- |
| 15 | 1 | 0 | 12 |
SANDRO
Tottenham signed the Brazilian international in the summer of 2010 and after winning the Copa Libertadores title, he moved to the club with a growing reputation.
A product of Internacional's youth academy, he signed his first professional contract and began his senior career in 2007 as an 18 year old. Only playing for a few seasons in the first-team, Sandro did not take long to impress and caught the eye of Harry Redknapp at Tottenham.
A defensive midfielder who likes to get forward, Sandro made his debut for the club against Arsenal in the Carling Cup in September 2010, having initially failed to report on time.
Strengths: Tough in the tackle, Sandro has a reputation for possessing incredible stamina. He can also get forward for a defensive midfielder.
Weaknesses: He will take time to adapt to the faster pace of the Premier League and tends to drift in and out of games.
Career high: Winning the Copa Libertadores with Internacional in 2010.
Career low: A 4-1 defeat to Arsenal made it a debut for forget.
Style: Tenacious, hard-working, a box-to-box midfielder.
Quotes: "Sandro looks like Socrates. He runs like him. If he can play like him we'll be all right... He's totally dedicated to his football. He's not going to go off Samba dancing anywhere.'' Harry Redknapp, September 2010.
Trivia: His brother is a musician and a rare clip has been caught of him performing.