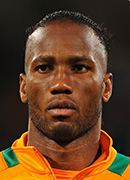 Didier Drogba
Squad No: 11
Position: Forward
Age: 36
Birth Date: Mar 11, 1978
Birth Place: Abidjan, Ivory Coast
Height: 6' 2'' (1.88m)
Weight: 185 lbs (83.8 kg)
DIDIER DROGBA
Undoubtedly one of the best centre forwards in the world, Drogba still manages to polarise opinion with his theatrical and temperamental style of play taking the shine off the powerful striker's incredible talent.
Drogba moved from his native Ivory Coast to France in 1988, living with his uncle in order to pursue a career in football. He started his career at Dunkirk before moving to Abbeville, Levallois and Le Mans.
But it was after a move to Guingamp that he really began to catch the eye, netting 17 goals in their 2002-03 Ligue 1 campaign before signing for Marseille - where he scored 19 goals in 35 appearances during his one season there. Chelsea and Jose Mourinho then came knocking and smashed the British transfer record for a striker, paying £24 million for his services in 2004. Drogba scored 16 goals in each of the next two seasons, helping Chelsea win back-to-back Premier League titles, before starring in 2009-10 with 29 league goals to secure another title.
Drogba finished his Blues career in fine style as his penalty helped to seal the Champions League trophy alongside another FA Cup triumph. He then opted to follow Nicolas Anelka to China and embarked on a new career with Shanghai Shenhua where he earned around £200,000-a-week.
Spending only 11 games in China, Drogba scored eight goals before opting to move to Galatasaray in January 2013 for an undisclosed fee.
Strengths: Aerial prowess and power; there are few players in the world as strong.
Weaknesses: Temperament, propensity to dive and over-exaggerate tackles and confrontations.
Career High: Winning the 2012 Champions League trophy and converting the final penalty in the shootout.
Career Low: Being sent-off in the Champions League final against Manchester United in 2008 after slapping Nemanja Vidic.
Style: Robust, bustling centre forward who harasses his markers. But he is excellent with the ball on the deck and a strong finisher with the ability to use both feet.
Quotes: "For the last six years I was struggling and it was difficult sometimes. I had to miss some training sessions but I am really happy because it's done and it is really good for me. I learned how to play with it, and now maybe I will have to change my game again." Didier Drogba on his fitness, August 2010.
Trivia: He was nicknamed "Tito" by his mother, after president Josip Broz Tito of Yugoslavia.